Version Release: LeadCoin's Alpha V1.0​
This week, after months of development, we released LeadCoin's Alpha, Version 1.0. This is a major milestone for us, as LeadCoin's network is now live and open to the public. Click here to register and start using the network.
You may be thinking that our work here is done now that we've released LeadCoin's network. In reality, the hard work is just beginning, as we'll now be constantly improving the platform based on our own tests and based on feedback from the community. We'll have weekly version releases of LeadCoin's network every Tuesday, with each version featuring new features and improvements of current features. Our aim in announcing new version releases is to keep the community updated on the progress of LeadCoin's network. This Alpha is just the first of many versions that we hope to release in an effort to get closer to producing the best possible lead sharing network for our community.
We've outlined all of the features in LeadCoin's Alpha V1.0 below. Version releases will typically include four categories: Updates, new features, bug fixes and special offers. Since this week's version is the first, you'll only see new features.
​
Here's a breakdown of everything that you can do on LeadCoin's Alpha V1.0:
1. Register & Recover Your Password
You can now register to LeadCoin's network, creating your own account. If you forget your password you can easily reset it.
2. Login with a Username & Password or with a Google Account
You have the option of creating your own username and password or you can connect and sign in with your Google account.
3. Basic Search
You can search for suitable leads by specifying your industry and category within that industry. This allows you to narrow your search, so you'll only see the specific leads that you're looking for.
4. Buy Leads
Once you find leads that you'd like to buy you can add them to your shopping cart and purchase them.
5. Upload Lead Form (Sell Leads)
If you have leads that you'd like to sell you can enter individual leads into the system by filling out a simple form.
6. Upload CSV (Sell Leads)
If you have multiple leads saved in an Excel spreadsheet or CSV file you can upload the file and bring multiple leads into the system at once.
7. Choose Multiple Leads
When purchasing leads, you can select multiple leads and purchase them in one transaction.
8. Shopping cart
Once you've finished selecting your leads and choose the buy option, you'll be taken to your shopping cart. Here you'll see the breakdown of your purchase with your total, and you'll see your balance before and after the purchase.
9. My Leads (See leads I bought)
After you complete a lead purchase, you can go to the My Leads page to view all of your leads. Here you'll see a breakdown of the leads with their unlocked personal identifiable information (PII) and specifically their contact details.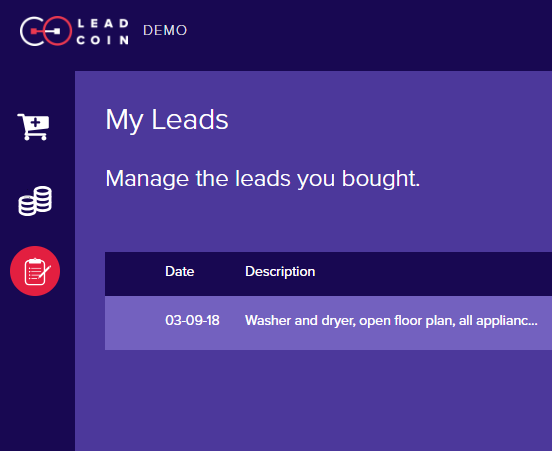 10. Change View (List/Cards)
When viewing leads, either while searching or on the My Leads page, you can switch between viewing the leads in a list or as individual cards. Many users prefer cards for mobile and the list for desktop, so we've set up both options.
11. Smart contract V01 - Escrow and LDC transaction
The first version of our smart contract has gone live alongside LeadCoin's Alpha V1.0. The smart contract will keep the money from a lead transaction in escrow for seven days in case a buyer or a seller wants to lodge a dispute following a transaction. The smart contract also allows transactions to take place on the Ethereum blockchain using LeadCoin's ERC-20 utility token, the LDC. The system will send you an Etherscan link, similar to the below link, following every transaction.
Stay tuned for next week's version release, as we'll announce the new version on our Telegram, Twitter and on our Blog.