Yonni Myers
Content & Communications
Product Q&A with our Founder & our Head of Development - Recap
​
Yesterday marked the first product Q&A with our Founder, Shmulik Grizim, and our Head of Development, Aminadav Glickshtein. We wanted to give our community the opportunity to engage with our management team directly, as we know that lots of you have questions about the development of our decentralized lead sharing network.
Here you can see our Head of Development, Aminadav (front left), and our Founder Shmulik (center, thumbs up) with Alana, Damien and myself (back center) lending our support. Alana moderated the session while Shmulik and Aminadav answered your questions.
In order to have the most efficient Q&A possible we opened a separate Telegram group just for the Q&A, and 406 people joined the group! We had 15 people ask 19 questions, and the hour-long session was from 13:00 -14:00 GMT.
Here's the session in case you missed it:
(Shmulik): Hi Everyone!!!
Q (David J): Hi. What are the long-term plans for LeadCoin?
A (Shmulik): To provide a true alternative to Google and Facebook's duopoly on the web marketing industry. We intend to put the power back in the hands of businesses and consumers, so they can transact and create value for themselves instead of creating value for Google and Facebook.
(David J): Great, thanks!
Q (Michal Lew): Have created own tool/application to potential users?
A (Shmulik): Hi Michal, Right now we are developing our MVP and we're registering alpha users to the platform.
Q (Michal Lew): And when you're planning to offer it?
A (Shmulik): We're on track with our development schedule that's been outlined in the
white paper. The MVP should be finished in Q3 2018.
Q (Jin): Please let us know which stage are you in your plan?
A (Aminadav): We're developing our MVP.
Q (Ryusuke Takeuji): I would like you to make it available in Japan, but is there any possibility in reality?
A (Shmulik): Japan, Korea and the far east are all part of our target geographies following the U.S. and E.U.
(Ryusuke Takeuji): Thanks! I am looking forward to that day. In Japan there are many
shops in private management suffering from job advertisement and advertisement costs of shops.
A (Shmulik): Sounds good, we look forward to breaking into the Japanese market soon.
Q (m M): Was lead company behind with the distribution of real leads?
A (Shmulik): The team behind Webydo's success came up with the concept for LeadCoin as they saw a great potential in sharing the massive amount of unused leads that their web marketing efforts produced (close to 97% of all leads).
Q (Eliyahu): What are you developing, at a technical level ?
A (Aminadav): A smart contract that makes it possible to buy leads, from sellers who you don't know and trust.To make it easy to interact with the smart contract we are also developing a web-app.
Q (Eliyahu): Thanks. Will there also be a mobile app?
A (Aminadav): LeadCoin will be a responsive web-app. It will work on desktop &
mobile. The Smart Contract is a DApp that users can access with any supported wallet.
Q (Eddie Phillip): Is LeadCoin an ERC20 Token?
A (Aminadav): LDC is a regular, ERC20 token, and users can buy, sell and transfer the token. We don't have any control over it, since the crowdsale has finished. Buying and selling leads will be possible by using a smart contract. The smart contract that we are developing will use the LDC tokens. The web-app we developing will be used to simplify the use of the smart contract.
Q (Eddie Phillip): Thanks. When can we see a demo?
A (Shmulik): The demo should be ready in the next few weeks.
Q (Christine Donald): Does LeadCoin have any control over the network?
A (Aminadav): From the moment a smart contract is deployed to the blockchain no one has control over it. It continues to work forever as defined in the code. More than that, if someone wants one day to improve the network, he can fork the project, make changes and create a new smart contract. This is the beauty of open-source and blockchain.
(Christine): Thanks :)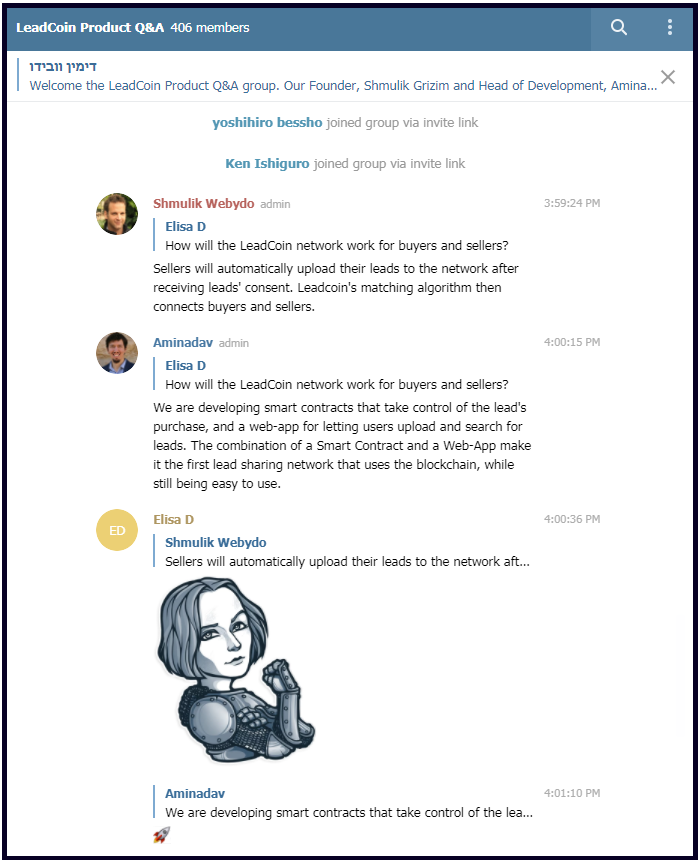 Q (Alex Viz.): Where did the leads come from?
A (Shmulik): Hi Alex, The leads will come from businesses who have unused and qualified leads that they cannot service. We're currently running an early business registration program, and we'll soon launch a referral program for businesses who are interested in participating in the network.
Q (Alex Viz): Where can I get more information about these programs?
A (Shmulik): You can read more about our early business registration by following this
link: https://business.leadcoin.network/referral. We'll also post about the referral program
soon.
A (Alex Viz.): Thanks, I'll check it out.
Q (Elisa D): How will the LeadCoin network work for buyers and sellers?
A (Shmulik): Sellers will automatically upload their leads to the network after receiving leads' consent. LeadCoin's matching algorithm then connects buyers and sellers.
A (Aminadav): We are developing smart contracts that take control of the lead's purchase, and a web-app for letting users upload and search for leads. The combination of a Smart Contract and a Web-App make it the first lead sharing network that uses the blockchain, while still being easy to use.
Q (Ahmed K): Why blockchain?
A (Aminadav): The blockchain ensures that no specific person can take control of the system. When using centralized systems like Google or Facebook, the system owns the data. When using the blockchain the data does not belong to anyone. The blockchain can give users transparency and control over what's happening with their information.